Yahoo Answers, a source of early internet humor and sometimes good advice, is shutting down for good on May 4th. RIP. https://t.co/6U3ZWGJ687 pic.twitter.com/GQEce1TMUA

— IGN (@IGN) April 5, 2021
Yahoo! Answers is shutting down after 16 years. The site will officially close on May 4th. Users won't be able to submit any new questions or answers after April 20. Previous questions and answers can be viewed on the website until May 4th when they will be redirected to the Yahoo homepage. Yahoo! Answers users can request their old data to download, including previous questions and answers they've posted before June 30th.
ONTD, did you use Yahoo! Answers?
What are some of your favorite questions asked there?
No! Yahoo is going to delete all of Yahoo Answers. That's like burning down the internet's goofy Library Of Alexandria. We'd lose antiquities like this: pic.twitter.com/sepP0gejjZ

— Josh Constine - SignalFire (@JoshConstine) April 5, 2021
in honor of yahoo answers shutting down next month pic.twitter.com/3rwxPnxK2H

— jordan (@mygfreal) April 5, 2021
rip yahoo answers you changed my life with this one pic.twitter.com/BD5Z43qkhL

— kermit gulag (@startunnels) April 5, 2021
YAHOO ANSWERS IS GETTING SHUTDOWN?! NOOOOOOOOO!!!!!!! pic.twitter.com/6rPXHo3lgb

— Comics Explained (@comicsexplained) April 5, 2021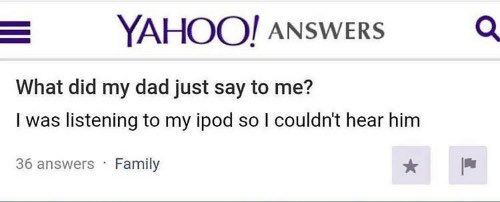 Sources:
1
|
2
|
3
|
4
|
5
from Oh No They Didn't! https://ift.tt/3wp1JU5